We all make our resumes with great hope. We try our level best that we must reflect on everything about our journey in a few pages. It is a difficult task and often we fail to achieve the desired result.
Why? Do we lack information? Or Do we lack sincerity?
The answer is No. We all try to do our best to build our resumes with great care. The problem is we ignore that building our resume requires strategy and an 'outward-inward' approach.
There's so much to keep in mind! Insert the right keywords, properly showcase our achievements, add numbers to prove our strength & value… And do all that while avoiding that random typo or a grammatical lapse.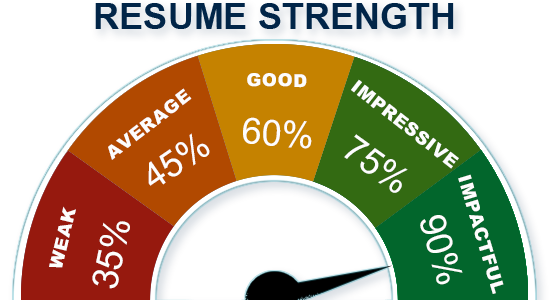 It may be scary but truth is that almost 'Six in Ten' resumes get rejected by the recruiter if it is not able to communicate the appealing story of the candidate.
Relax, and let our team help you out by checking your resume in terms of its impact. Our certified Resume Writers apply 25-point checks to scan your resume for giving a score that will help you redefine your resume (if needed). These 25-point checks are broadly divided into 5 categories:
Length:
We check whether the resume is comprehensive and appropriate in size. Not too long to distract the recruiter, not too short to miss the relevant information
Language & Vocabulary:
We check all nuances of language, be it grammar, punctuation, length of sentence, etc. Our scan also checks if the correct vocabulary is used which can pass the ATS check
Creativity:
We check how smartly and intelligently the resume is communicating the story of the resume holder. We do check if the skills are appropriately getting reflected in the resume
Clarity:
We check how clear and concise the wording of the resume is and whether it has all the proper sections and sub-sections
Appeal Factor:
We check whether the resume has the potential to make a visual impact on the recruiter. It should be catchy and should have the potential to stand tall in the hundreds of resumes recruiters are reviewing