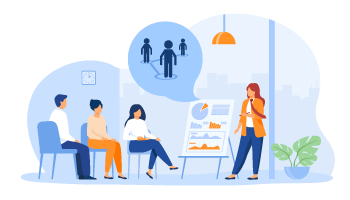 Personal Brand Building & Networking
Many professionals often confuse themselves with the fact that their Resumes and LinkedIn profile are the same. While they are largely a reflection of each other it is not the same. Both have different 'agendas and audiences' and they must be showcased separately.
At a broader level, a resume is specific, and targeted toward active jobs, whereas a LinkedIn profile is more towards the general reflection of the profile, achievements, interests, and much more.
Your social biography is much more visible. It can be on your LinkedIn profile, your blogs, your company's website, or can be showcased on your Twitter bio and many other places. Social biography has a much wider reach and does passive marketing around the clock of your profile.
As part of our team, we have engaged social media experts & influencers to help professionals like you to up your game on social media. Our team carefully follows the following 4 steps process to build/re-create your effective profile:
Profile Audit
Our team will extensively and critically evaluate your profile on social media like LinkedIn, Blogs site, Company Pages, Google pages, etc. to ascertain your social media presence and how to optimize your profile. While doing this, the team focuses on two aspects - profile reach as well as profile consistency.
Profile Alignment
Based on a discussion with you through a structured questionnaire and your resume (if available), the team will re-write your social media profile in a manner that your strengths, accomplishments, etc. are truly reflected in that. We help sharpen your LinkedIn profile, expand your network and grow your visibility. We remodel the content to become compelling enough for taking the engagement forward.
Network Audit & Expansion
We all know that in today's day and age 'our network is our networth'. Ideally, in your network, quality should supersede quantity. However, quantity is also needed to have a wider reach of the profile. The recipe to success is to add the most relevant and right mix of connections that ensure the captivity of your content and the extent of your visibility. We further help to refine the quality of your existing connections and guide you through the right segmentation of your profile.
Profile Positioning
Once the profile is ready (after taking your inputs), our team will guide you to place the same on the different social sites. We will strategize and make sure that there is a stellar social media profile that works in your favor in the long run.
At beewise, our social media team works on a single motto - "your current social media profile raises your online presence and reaches out to your ideal stakeholders". If you are an active job seeker, we emphasize the importance of ensuring that all aspects of your online persona are attracting the right recruiters and you are able to take your next career move.